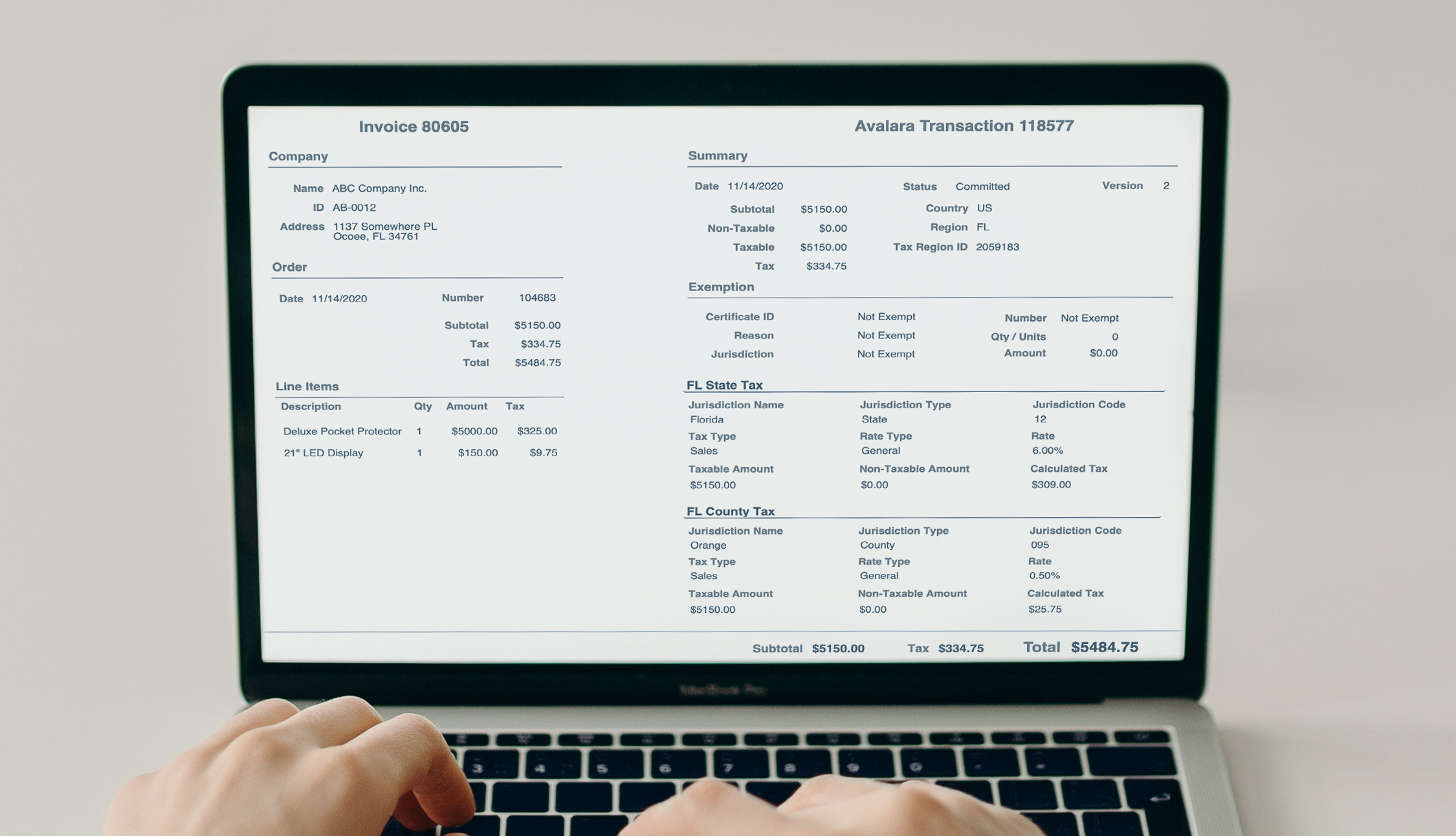 Leverage Avalara Integration
Now, more than ever, businesses serve broadly distributed audiences and products often cross many states and regions. Keeping up with sales tax rates, when to charge, how to manage payments, and how to report appropriate tax is simplified using Avalara.
Avalara is an online tool and service that can be integrated into your custom apps or other technology solutions – including, but certainly not limited to Claris FileMaker – to help manage the pain of sales tax compliance. Codence has integrated with Claris FileMaker solutions for our clients to process sales orders, invoices, deliveries and returns.
Save hours of finance hassle: leveraging Avalara integration to determine the sales tax amounts and produce reports will alleviate many of the pain points you likely have producing those manually today.
Automate Sales Tax Charges
We provide integration services for custom software, SaaS applications and Claris FileMaker solutions using the Avalara API. Now, with a single push of a button, you can push data to Avalara to bring back accurate and fast sales tax calculations. Your on-line preferences for Avalara will determine where you have Nexus, which jurisdictions you need to collect tax in and return the potentially multiple sales tax codes and rates for each order.
Eliminate Errors and Costly Fines
Due to the complexity of sales tax management, it's possible your business may be subject to non-compliance fines and back-taxes. Insure that you are protected by integrating with Avalara's service and reporting capabilities.
Simplify Reporting and Tax Filing
We can manage reporting for filing your taxes in your business solutions, or Avalara even offers full-service filing of your periodic tax encumbrances for all jurisdictions.
Integrate with Your Custom Business Applications
There are many features and approaches to managing your technology platforms and a host of questions to be addressed for your specific taxing needs. Allow us to assist in this process with our vast experience and know-how.
Your Trusted Partner
We've developed custom software solutions for hundreds of clients over the years and integrated with many applications and platforms. Codence can be your trusted partner to integrate Avalara into your front-end solution as well as provide expertise for any custom additions you may need to get you closer to your goals.
As a service business and consulting team, our best strength lies in coming to understand your needs and recommending the best approach for your unique business.
Our partnership together will begin with a conversation, where we'll be happy to answer your questions.
Discover How Our Avalara Experts Can Help
Contact Codence today for a free consultation — we'll do our best to answer your questions and explore ideas.