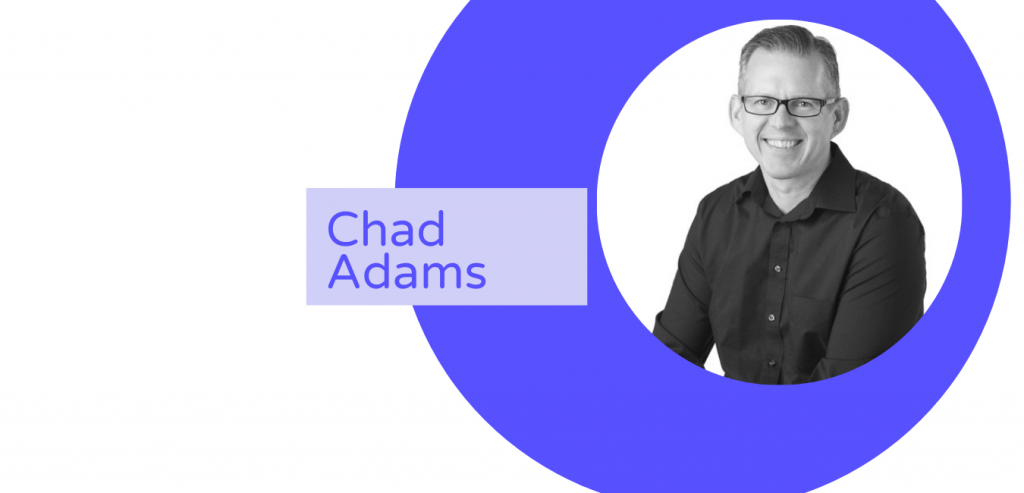 Chad is a valued member of the Claris FileMaker community. He has over 25 years of experience under his belt and worked as a lead developer, team lead, and solution process architect. He is also a private pilot and has many cool things to share about his work and personal life below.  
– How did you become a FileMaker developer?
When I was in college, I got a job doing data entry. We would get the inventories of used car lots faxed to us from all over the country. I would data enter the vehicles into the computer system. Our clients were insurance companies, and we would use that data to compare when someone wrecked their car so they would know what fair market value was for their vehicle. One day the "computer guy" quit, and the owner sent me home with a Mac LCIII and the FileMaker 2.1 manual and told me to "learn it". I quickly found out that the original guy had made everything way harder than it needed to be, and I rewrote the whole solution in about 3 weeks.
I worked at that place for about 3 years. I didn't know that there were FileMaker consultants. This was the late 90's, and I was online searching for a way to send email from FileMaker (we were trying to move away from faxes) and I found a job posting for a FileMaker developer. I applied, and the rest is history.
– In your opinion, what makes a good FileMaker Developer?
That is a really good question. I think that a good FileMaker developer is someone who is kind of a "jack of all trades". Today, FileMaker allows us to do so much, but FileMaker used to be fairly limited. Don't get me wrong, it has always been powerful for what it does, but it has never really been what I would call "traditional". Other platforms allowed for someone to specialize. They could make a whole career as the frontend developer or the backend developer. The term "full-stack developer" wasn't really used till around 2008, but I think a good FileMaker developer is a lot like a full-stack developer. They can juggle the frontend UI, the backend data, the server, client needs, workflows, mobile, sync, WAN clients, browser support, etc.
The full "jack of all trades" quote is: A jack of all trades is a master of none, but often better than a master of one. FileMaker is a rapid application development platform.  When you have someone who can move the ball in many different areas without relying on anyone else, they produce an excellent return on investment for their clients.
– What are the biggest challenges of working as a FileMaker consultant?
Communication, which I think is the same challenge that a lot of other professions have. As consultants, we work with a lot of different people in a lot of different companies that are in a lot of different industries. Sometimes the people in those meetings also speak other languages. But even when the language is the same, we often associate different meanings to the same words. It always amazes me how people can be in the same meeting using the exact words and mean totally different things. I think it is super important to always be clarifying what is being said. Clear communication is the "secret sauce" of what makes a good consultant.
– What do you think will be the biggest trends in the future of custom software development?
Custom software provides a solution when there isn't an off-the-shelf solution that fits, but has always been vulnerable. We are seeing more and more vertical solutions fill the specific needs that companies face. I think one of the things we will see a huge need for in the near future is a system that can allow managers to easily compile and evaluate the data from these various vertical solutions. I expect that as FileMaker developers, we will be building more and more solutions that pull data from companies' CRM, ERP, and Accounting solutions so managers and decision-makers can have a reliable way to see the data they need.
– You own a 1974 Cessna 150; how did you become a pilot, and how often do you fly?
I have wanted to fly since I was 13 years old. The grandpa of a good friend of mine had his pilot's license and would take us to air shows around the country. I fell in love with flying because of that. I started my flight training in 1999. In early 2000 my wife and I found out that we were going to be parents, and all of a sudden, I couldn't afford to fly, so my training took a pause.
Twenty years later, in 2019, my son indicated that he'd like like to look into becoming a pilot. I thought this would be a great thing for us to do together so we went to flight school. I got my pilot's license in June of 2020. My son also has his pilot's license and is training to get his instrument and commercial licenses.
We bought the Cessna 150 to do our training in. It has been a great investment so far. I try to fly once or twice a week, but with weather and busy schedules, once or twice a month is more realistic. Having a small airplane makes the world feel a little smaller.
– Can you listen to music while flying? If so, what do you listen to while flying?
Yes, you can. Our airplane is not set up to play music for both people (a two-seater airplane). However, my headset is Bluetooth enabled, which means I can play music or make phone calls via Bluetooth. I hadn't used this feature all during my training and have only had the opportunity to mess with setting it up on longer flights. I have a broad taste in music, so I play whatever I'm into at the moment. Sometimes, I'll play podcasts. The headset will automatically mute the music whenever I need to talk on the radio or anyone else is talking on the radio. It works much better than I thought it would.
– Aside from necessities, what one thing could you not go a day without?
Hmm, this is a hard question. I don't know if there is one thing. I'm a family guy; I love having my family close and spending time with them. Although I've gone without coffee for several days, I enjoy life a lot more with it. I try to exercise each day, and although I don't really "miss it" if I skip a day, I have found that I get into a funk mentally if I skip 2-3 days.
– What's the longest you've gone without sleep (and why)?
The longest I've ever gone without sleep is about 63 hours. It was stupid, I would not do it again. We had planned a trip to Colorado. I live on the west side of Missouri, so Colorado (to the mountains) is about an eleven-hour drive. In trying to get everything wrapped up for this trip, I pulled an all-nighter at work. I also worked the next day and then we drove overnight to Colorado. I was up from around 6 am on a Tuesday till around 9 pm on a Friday night. Although I was quite a bit younger then, it still took a few days to recover (which kind of messed up our vacation…hindsight is 20/20).
– What is your favorite family tradition?
Coming together for the holidays. My dad has four siblings (he's the middle child of 5), so when I was a kid all my aunts, uncles and cousins would gather at grandma's house for Thanksgiving and Christmas. As the grandkids got older and started marrying and having kids the group grew to 70-80 people. I loved those gatherings. It was crazy and loud and frustrating and yet wonderful.

We hope you enjoyed getting to know more about Chad. Want to learn more about our growing team? Check our recent Q&A posts here.
Marketing & Sales Director
Danielle spearheads initiatives to drive marketing, branding, growth strategies, and sales management. She holds a Bachelor of Arts degree in Business Administration and Marketing, a postgraduate degree in Digital Business, and an MBA in Data Analytics. On her time off, she treasures quality time with her family. (Danielle is an Independent Contractor working with Codence.)
Subscribe to get the latest in your inbox.
Built with you in mind
Speak to one of our expert consultants about making sense of your data today. During
this free consultation, we'll address your questions, learn more about your business, and
make some immediate recommendations.